Our Company
Hanta Rods was started in late 2012 with the purpose of bringing a high quality, built in the USA product, to market.  Our aim is to make affordable, high-end rods available to all serious anglers.  Our customer wants a rod that will not fail under the most extreme conditions, who loves the challenge of a good fight, and jumps at the chance to fish whenever the occasion arises.
Popping
Popping is a totally unique fishing method, and once you have experienced it you will realize that it seems more like hunting than traditional fishing does.  The sight of a massive tuna crashing into a popper (or stick bait) on the water surface has to been seen to be believed, and is truly addictive.  This type of fishing is suitable for chasing the small stripers and all the way up to the might blue fin tuna that when they arrive on the outer banks are unable to resist the surface popper lures.
Origins
This type of fishing originated in Japan with anglers that were going after Giant Trevally (Caranx Ignobilis).  It has evolved quickly and is now a popular, and extremely effective method of catching all pelagic on the surface or sub surface of the water. This unique method of fishing requires equally unique rods.  They need to be very light weight to ensure that they are easy to cast and recast for long periods of time.  They need to be very strong, and have enough backbone to withstand extended battles.  They need to use braised lines, that have strong leaders.  Finally, they need to be able to cast poppers and stick baits that weigh as much as 250 grams a very long distance.  Until now these rods were only manufactured by a few large Japanese firms and were extremely expensive.
The Blanks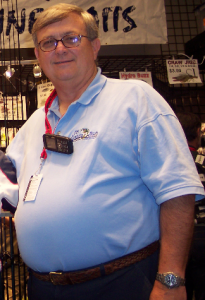 Our rods are made of high modulus graphite.  We tested various blanks from around the globe, under extremely rigorous fishing conditions.  As rod after rod failed it became obvious that we needed to look to the Japanese blanks as they are undoubtedly the leaders in this field, and were the only blanks that continually performed as intended.  We were  extremely fortunate in that we found a Japanese partner that was willing to work with us and together we set about creating and testing the blanks that would become known as Hanta Rods. John Ballard is a legendary custom rod builder in both the fresh water and salt water market. His years of experience ensure each rod is built to the highest standards based on tried and tested methods.
Design and Field Testing
The design of our rods has been driven by a fishing nut as he is often called. Anthony grew up fishing for tiger fish on the Zambezi and has been obsessed with fishing ever since – whether it be guiding groups into the remotest parts of Mongolia to chase Taimen on fly, popping and jigging around the remote volcanoes in the Andaman chain of islands or hunting mama GT's throughout the Indonesian archipelago. His knowledge of what he liked and felt was needed in a popping rod, combined with John's extensive rod building knowledge and experience, evolved into the Hanta series. North Carolina provides a unique fishery and the plentiful Amberjack, Tuna, Wahoo, Dorado, African Pompano and several other species ensured extensive field testing could be done on our door step . This was combined with extensive overseas testing on GT's, yellowtail kingfish and other pelagic's, resulting in rods that have applications globally.
Fish hard whenever the chance arises – We do !!!